SPILL RESPONSE? CALL US TODAY 01767 679143
Ecological Contracting and Clerk of Works
At Remtech we complement our broad enabling works services with specialist ecological contracting and consultancy support. As a specialist contractor, we understand the importance of design and regulatory alignment in planning and implementation of ecological mitigation activities. Our strategic partnership with Mortimer Environmental (www.mortimerenvironmental.com) enables us to offer ecological survey, design, mitigation and supervisory solutions as well as site inspections, all undertaken by experienced, licensed ecologists.
Our comprehensive package of ecological services includes the provision of project management and bid support, all with demonstrable experience and success on the largest of schemes, including major and national infrastructure. We provide a fresh perspective that allows our clients to win and deliver work whilst simultaneously maximising environmental gains across specialisms. Our aim is to break down silos, think creatively across environmental disciplines, and incorporate efficiencies and innovations that generate award-winning recognition alongside programmed delivery.
Our mitigation services include:
Badger sett design and construction, monitoring and licensed sett closure;
Bat mitigation design, licensing and roost closure;
Great crest newt and reptile trapping and translocation;
Exclusion fencing – installation and maintenance;
Habitat design, creation, translocation and enhancement – including ponds and hibernacula.
On-site support and ECoW supervision
Through our strategic partner Mortimer Environmental we offer Ecological Clerk of Works (ECoW) support, on-site monitoring and supervision. Our licensed ecologists understand the wide range of protected and invasive species constraints that can impact project programmes, as well as the need for early identification and intervention. They know the value of pragmatic stakeholder liaison, particularly on large infrastructure schemes, and they support our project teams in mitigating risk and keeping programmes on schedule and budget.
Construction and Optimisation of an Air Sparge and Soil Vapour Extraction System: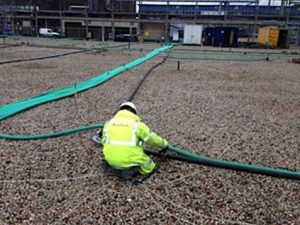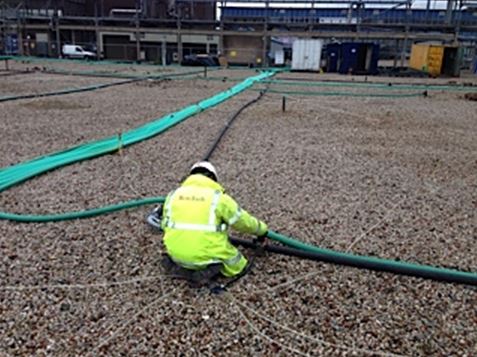 Background:
When a large pharmaceutical company, based in Dagenham UK decommissioned its facility, standard site investigations found an assortment of dissolved solvents and hydrocarbons within the subsurface. In addition a former landfilled area also contained a mixture of chemical contaminants which required removal so that redevelopment of the property could begin. The lead consultant for the project (Arcadis) designed a treatment train of in-situ technologies including chemical injection, air sparge with soil vapour extraction, and total fluid extraction from the subsurface with effluent treatment.
Find out more and download the case study