SPILL RESPONSE? CALL US TODAY 01767 679143
When there is a release of chemicals, oil or other pollutants to the environment you need experience and a calm head to take control and make the right decisions quickly to minimise damage and to ensure measures are put safely in place to resolve things as fast as possible. Our team are all highly experienced in the management, assessment, control and remediation of environmental pollution incidents having first-hand experience over the last 25 years with incidents as large and complex as the Buncefield oil terminal explosion, to the loss of a few litres of kerosene from a domestic oil tank.
After the initial response to an incident, the work of restoration needs to be implemented in a timely and efficient manner. RemTech is practised in keeping the end goal of restoring conditions to normal as soon as possible with the minimum disruption to business operations or home life. We often see a disjointed approach to spill response and subsequent restoration – we have the skills and experience to move quickly and seamlessly into restoration without creating a drama out of a short term crisis.
We like to keep things simple and here are the six 'C's of our approach:
Control – provide immediate measures to make the incident safe and to prevent it getting any worse.  This is perhaps the most critical phase of any incident to minimise overall cost and timeframe for corrective action.
Calm – sometimes it is necessary to provide reassurance to those affected by a spill of what damage might have been caused, what the risks are and what the likely next steps may be.
Conceptualise – carry out investigations to define the problem and establish what damage has been done, what liability and risks remain, and what must be done to resolve the problem.
Correct– instigate an appropriate level of remediation which resolves the problem whilst protecting all affected parties interests.
Communicate – maintain regular contact and report to all parties involved in the project to update on progress toward completion.
Conclusion – ensure our work is completed to the satisfaction of all parties and provide documentation and evidence that the work has achieved all its objectives.
We have experienced personnel and plant available to deploy at short notice including:
Spill management equipment and materials;
Air extraction equipment to control odour and vapour accumulations;
Harper's fleet of vacuum tankers for immediate uplift and disposal of liquids;
Excavators and small plant;
Groundwater extraction and treatment units for hydraulic control;
Specialist ground investigation equipment including window sampling and rotary drilling rigs;
Environmental monitoring equipment including Photoionisation Detectors (PIDs), interface probes, dip meters and low flow groundwater sampling pumps and multiparameter water meters.
As a result of historical activities on a military facility, an area of soil beneath a former building had been
Read more
Construction and Optimisation of an Air Sparge and Soil Vapour Extraction System: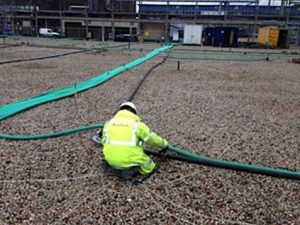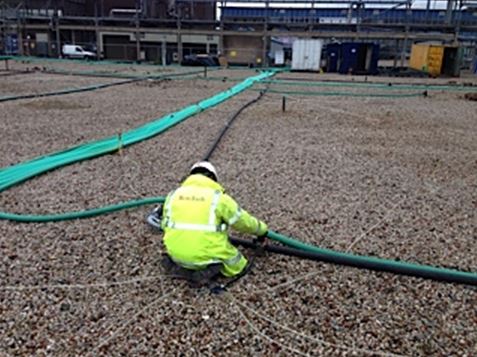 Background:
When a large pharmaceutical company, based in Dagenham UK decommissioned its facility, standard site investigations found an assortment of dissolved solvents and hydrocarbons within the subsurface. In addition a former landfilled area also contained a mixture of chemical contaminants which required removal so that redevelopment of the property could begin. The lead consultant for the project (Arcadis) designed a treatment train of in-situ technologies including chemical injection, air sparge with soil vapour extraction, and total fluid extraction from the subsurface with effluent treatment.
Find out more and download the case study