SPILL RESPONSE? CALL US TODAY 01767 679143
Many different companies are involved in managing, developing and remediating brownfield land which may, or may not be contaminated. These include Environmental Consulting Companies, Developers, Architects, Engineers, Land Surveyors and others. Many have significant experience within their teams but often lack the field capability or specialist equipment to collect data or test potential remedial solutions. This is where Remtech can help. Our field technicians will deploy in support of our clients. We are very used to working as an integrated team bringing our specialist piece into a bigger project or team environment.
Remediation Support & Carbon Replacement
RemTech provides an on-site remediation monitoring, maintenance, optimisation and reporting service to larger clients who do not always have enough engineers or time to keep up with the regular monitoring requirements needed to keep a remediation project on track. We currently have several long-running projects that require weekly or bi-monthly visits to dip wells, measure and collect gas data, empty fuel interceptors, collect representative samples of air, groundwater or effluent, followed by the preparation or updating of spreadsheets for our client contacts. We also carry numerous parts, pipes and materials for common remediation systems and are able carry out preventative maintenance or repairs wherever necessary to avoid long stoppage times that can drastically affect the performance of a system.
In addition, RemTech has developed a unique system to extract spent activated carbon from air or water filtration vessels. The process avoids the need for expensive vacuum road tankers and provides a clear chain of custody from site to disposal point using RemTech's waste carriers licence. RemTech also works closely with a UK carbon supplier and is able to assist with the specification of carbon for particular contaminants, as well as providing competitive rates for replacement carbon.
1) Pilot Test Trailer:
– for testing the feasibility of different in-situ technologies, this unit includes a compressor for use in air sparge testing and operation of pneumatic submersible pumps, a high-flow low vacuum pump, a high vacuum low flow pump, oil water separator, high vacuum moisture and liquid knock out pot, waste oil containment, piezometric dataloggers, GAC filters and can be fitted with an air stripping tower where needed.
2) Low flow sampling:
– Peristaltic groundwater pump, MP1 variable speed groundwater pump, 100m dip and interface probes, flow cell and multiparameter groundwater probe for collecting groundwater samples for projects.  All data is recorded using Arc GIS to provide a formatted report upon completion.
3) Gas monitoring:
– GFM436 GasData landfill gas analyser capable of monitoring methane, carbon dioxide, oxygen, hydrogen sulphide, barometric pressure and flow.  All data is recorded using Arc GIS to provide a formatted report upon completion
4) Waste Carrier and Broker:
– Remtech holds a waste carriers and brokers licence which allows us to remove and transport any small amounts of waste from site generated during normal site investigation works.  We can also arrange skips, grab lorries and temporary storage / handling of difficult liquid, solid or slurry wastes anywhere in the country providing full duty of care paperwork.
5) Field Services:
– Our experienced staff have a background in environmental consultancy and can also offer the following services of use in regular environmental consultancy activities:
Soakaway testing with interpretation and reporting using our mobile water bowser, dipmeters, dataloggers, and various hydrant licences.
Trial pitting (including provision of suitable plant and licenced operators)
Foundation exposure using hydraulic and electric breakers, hand tools and CAT scans
Excavation and site clearance ahead of site investigations
Construction of fencing and concrete pads
6) Soil Strip and Clean Soil Cover Systems:
Remtech has installed numerous soil cover systems to ensure safe redevelopment of domestic and commercial properties.  We manage the strip of contaminated material to survey depth and then work with British Sugar to provide certified topsoil cover with any break-layers and 'No Dig' barriers as required.
7) Mobile Plant Licence Compliance and Monitoring:
– Our staff hold WAMITAB COTC qualifications for assistance with meeting compliance visits for any deployed systems operating under mobile plant environment permits throughout the UK.
– We also have vans and staff set up to monitor, maintain and repair integrated remediation systems.  Services include stripping down pumps, cleaning filters, and servicing compressors and motors as well as collecting performance data and presenting a report via our Arc GIS site app.  We can also make improvements and carry out preventative maintenance.
8) Carbon and Filter Change Outs:
– We have a vacuum extraction system to allow us to uplift spent GAC and replenish it with fresh carbon at a competitive rate.  We work with CPL to regenerate spent carbon wherever possible.
RemTech also has a purpose built pilot testing trailer and a separate chemical injection trailer which can both be deployed at any time and either rented for private use or operated by RemTech engineers, to collect performance data during short or long-term remediation technology pilot trials and water pumping tests using a variety of equipment. Please get in touch if you are interested in hiring this equipment.
Construction and Optimisation of an Air Sparge and Soil Vapour Extraction System: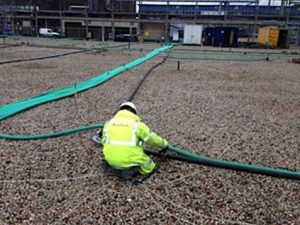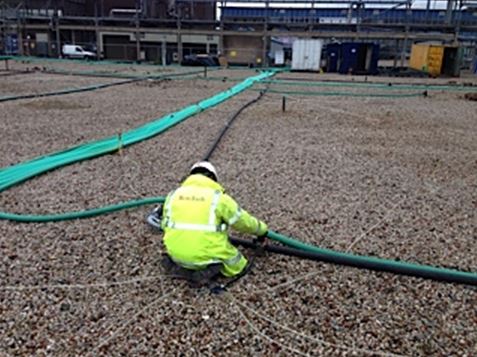 Background:
When a large pharmaceutical company, based in Dagenham UK decommissioned its facility, standard site investigations found an assortment of dissolved solvents and hydrocarbons within the subsurface. In addition a former landfilled area also contained a mixture of chemical contaminants which required removal so that redevelopment of the property could begin. The lead consultant for the project (Arcadis) designed a treatment train of in-situ technologies including chemical injection, air sparge with soil vapour extraction, and total fluid extraction from the subsurface with effluent treatment.
Find out more and download the case study